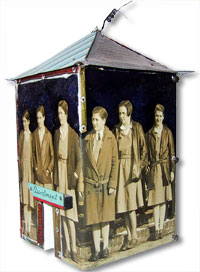 "Feder's small house shaped sculptural constructions recall Joseph Cornell's boxes in their introspective union of experience, recollection and imagination."
— Helen Harrison, New York Times



Jenny Feder grew up in New York City. She attended the High School of Art and Design, The Art Student's League, and during this period spent summers studying at the Instituto de Allende in San Miguel De Allende, Mexico. She attended University of New Mexico in Albuquerque, and spent another five years in Santa Fe as a graphic designer.
In 1978 she joined two friends and designed, built and operated Three Lives and Company Bookstore in Greenwich Village. The store is known for its eclectic content and the aesthetic environment created for the books themselves. The shop was a work in progress for 23 years, and Feder was instrumental in refining and redesigning the environment. She often says that it was her biggest, living art project.
During her tenure as owner, Feder was privileged to tangentially participate in the literary and artistic worlds of the 1980's and 1990's.
In the early 1970's, the artist and gallery owner Betty Parsons introduced Jenny to the North Fork of Long Island, where she now lives and works as a full time artist.
Jenny Feder's intimate, small scale sculptures are informed by a lifetime spent traveling and immersing herself in the rich world of books. Always an avid collector of ephemera, her sculptures incorporate the bits and pieces she has found and kept, as they gain a new life of their own.
Click here for extended resume.